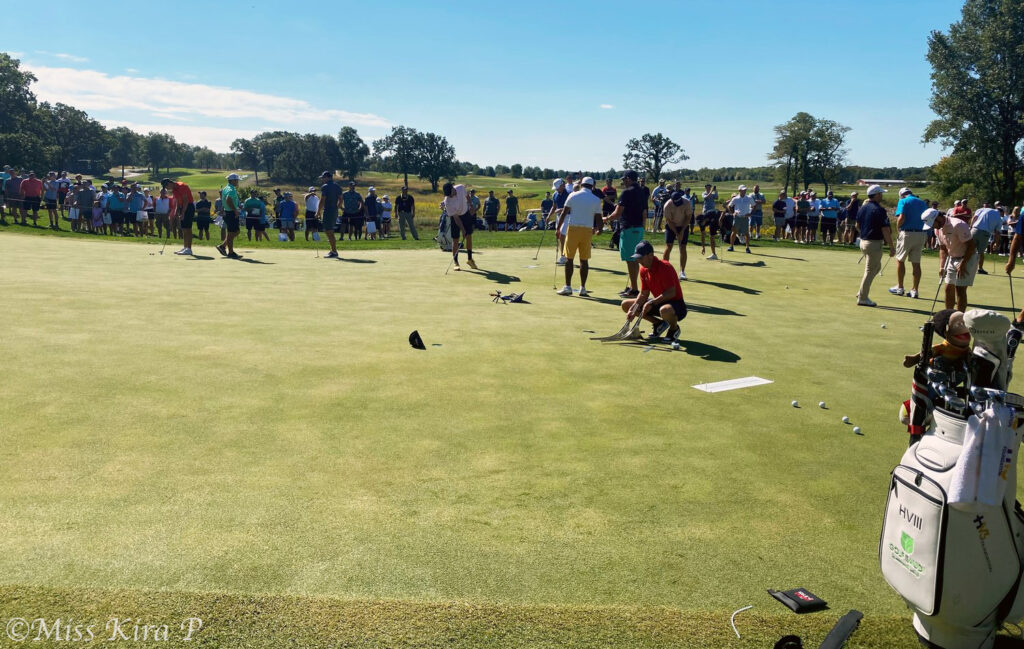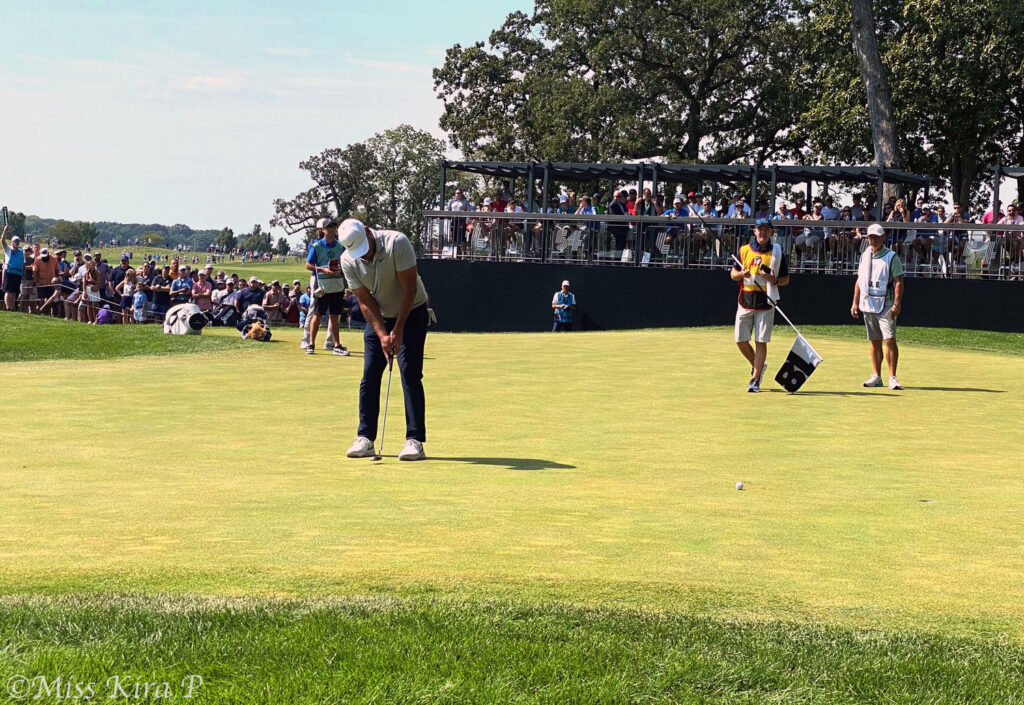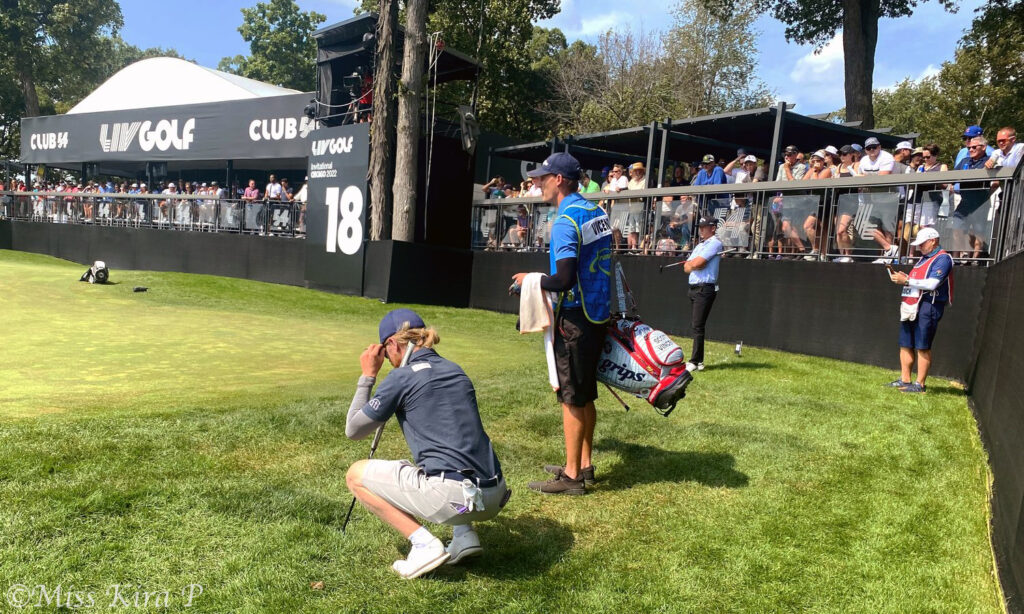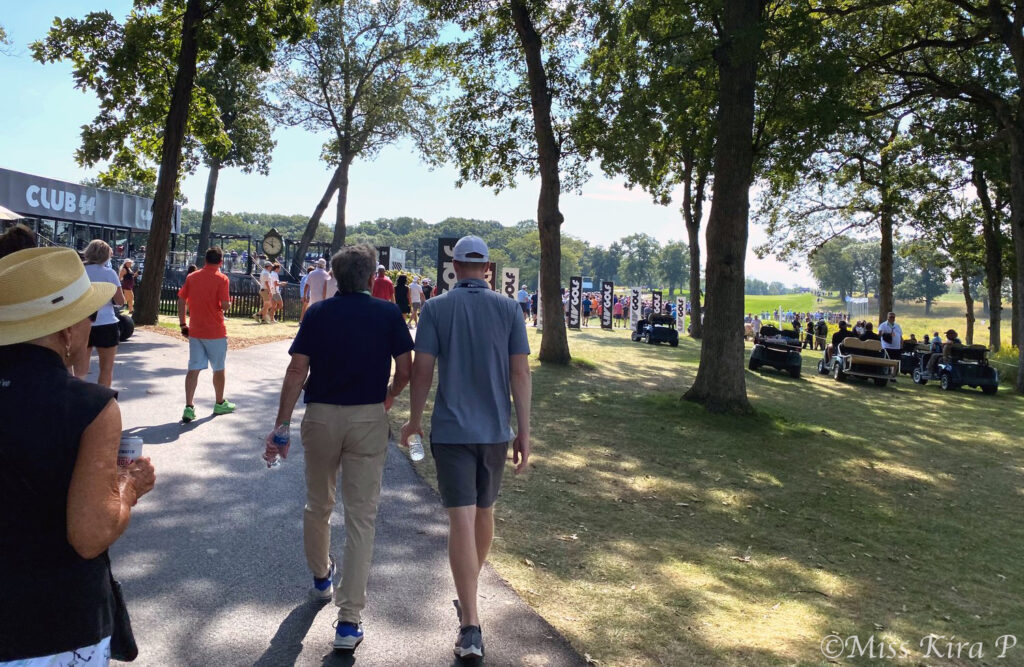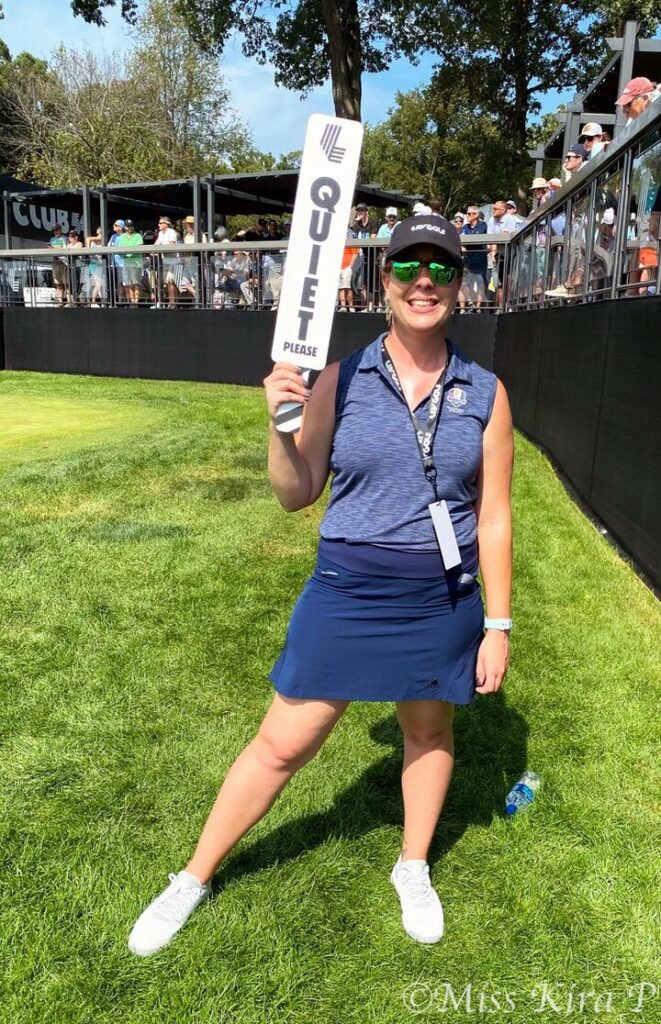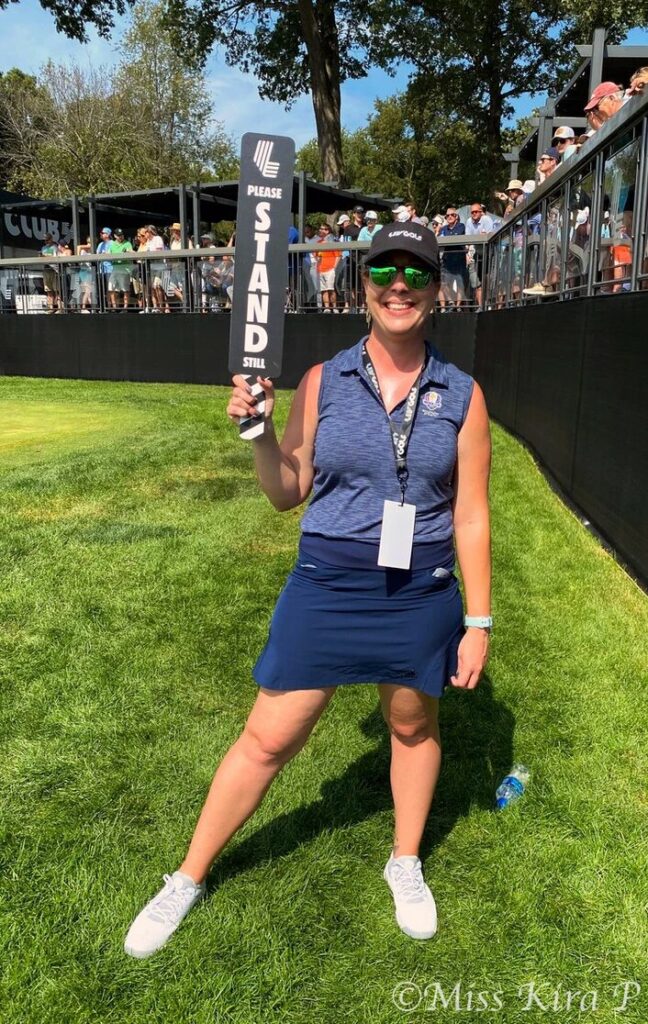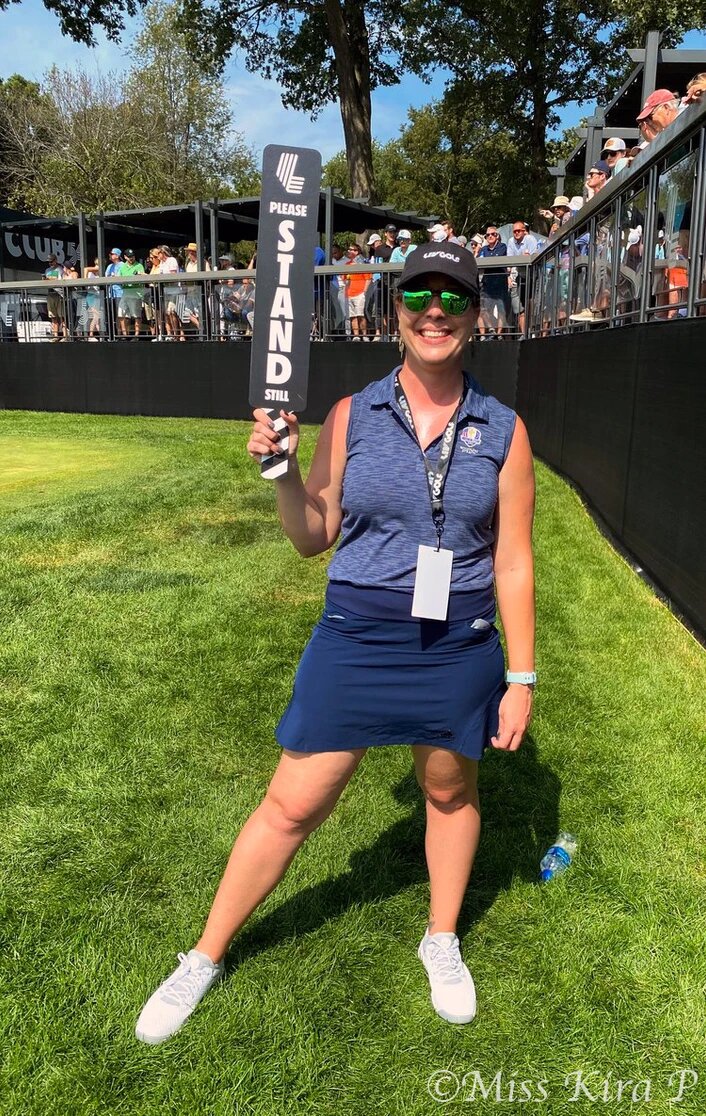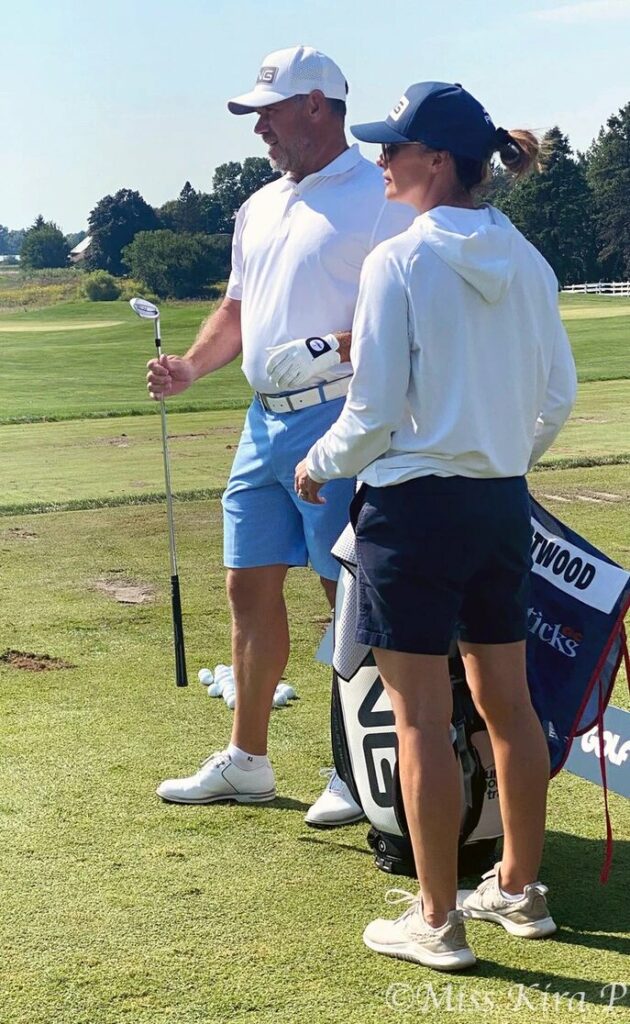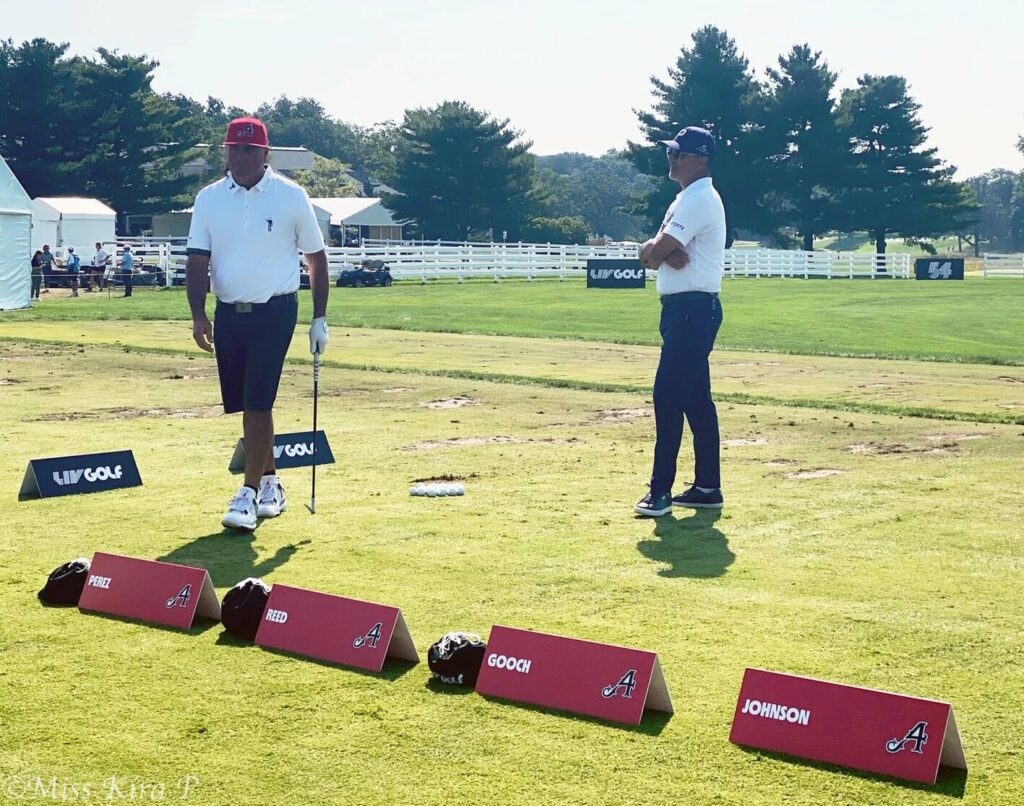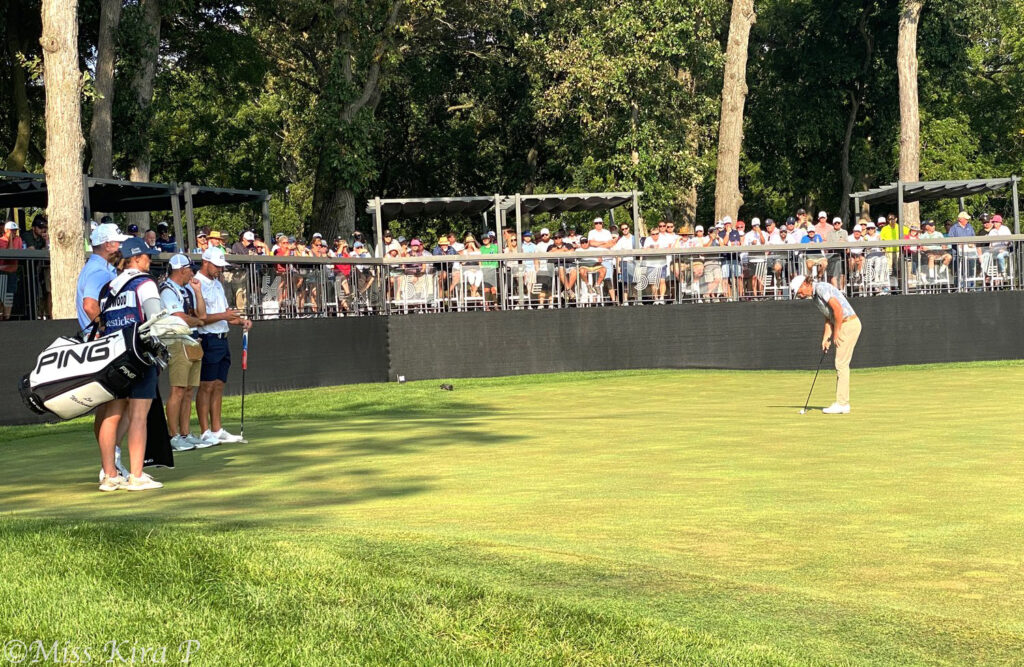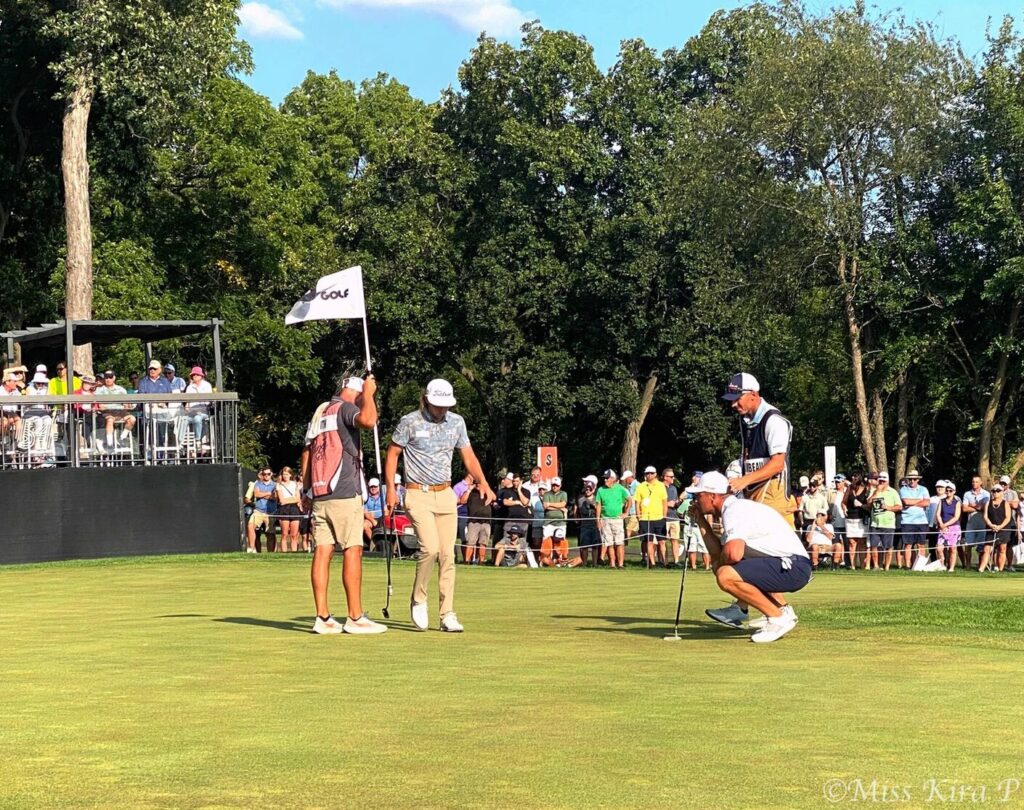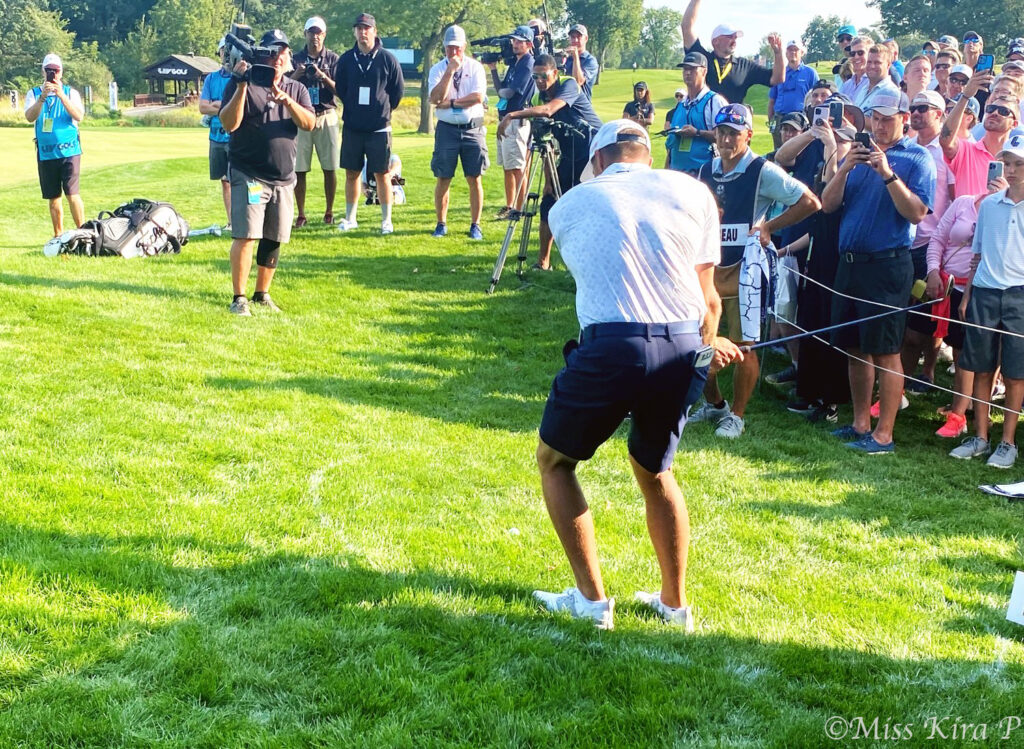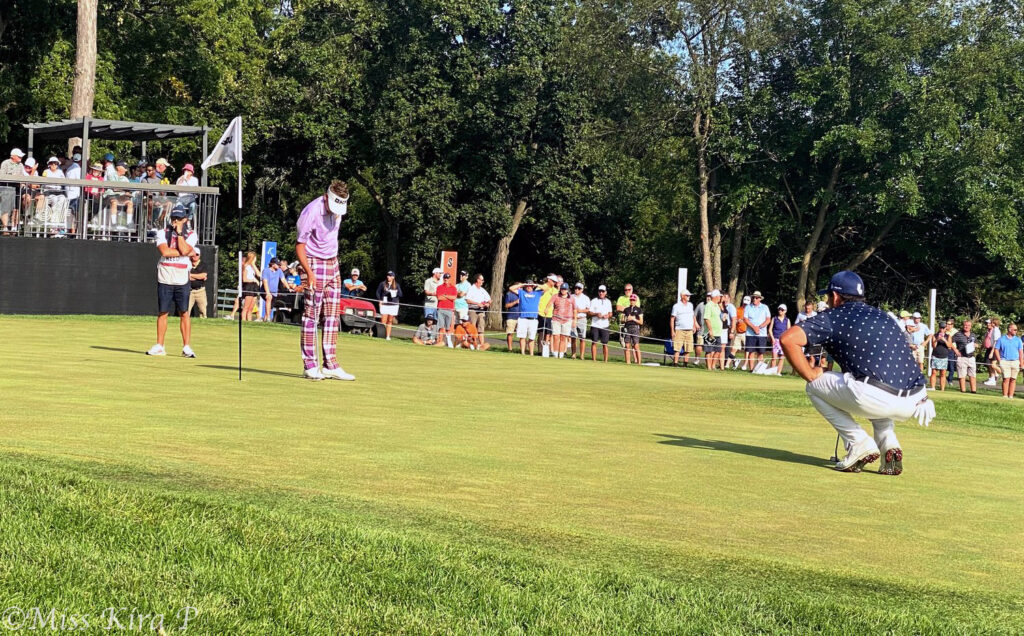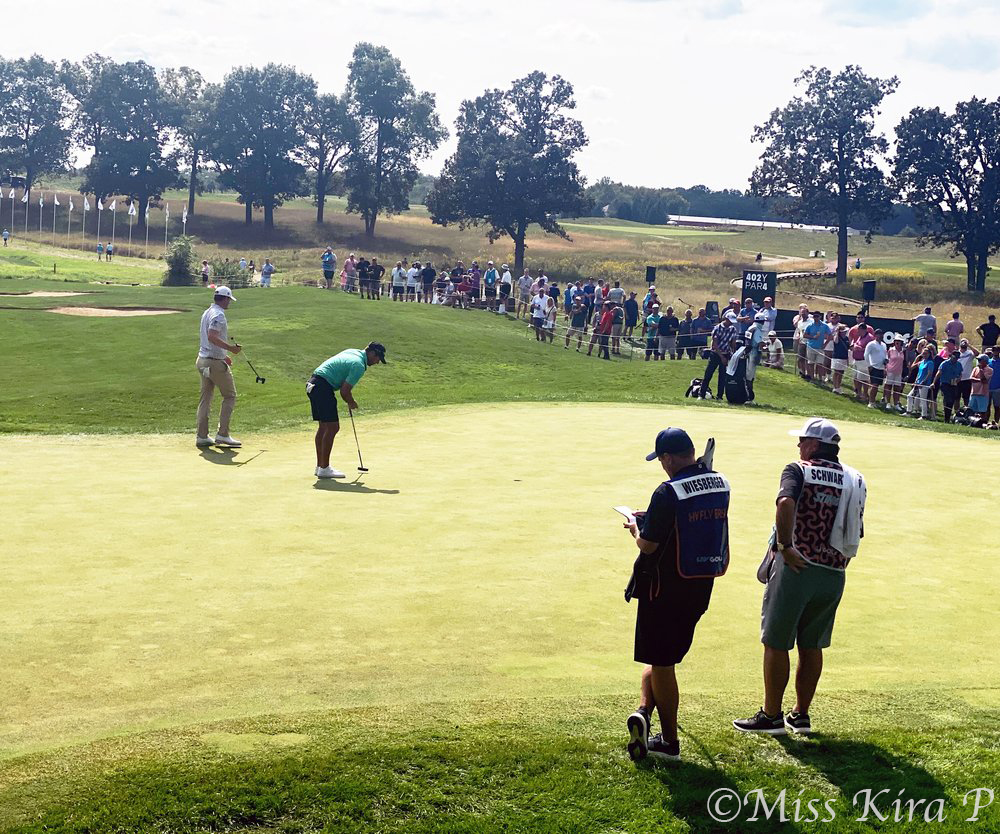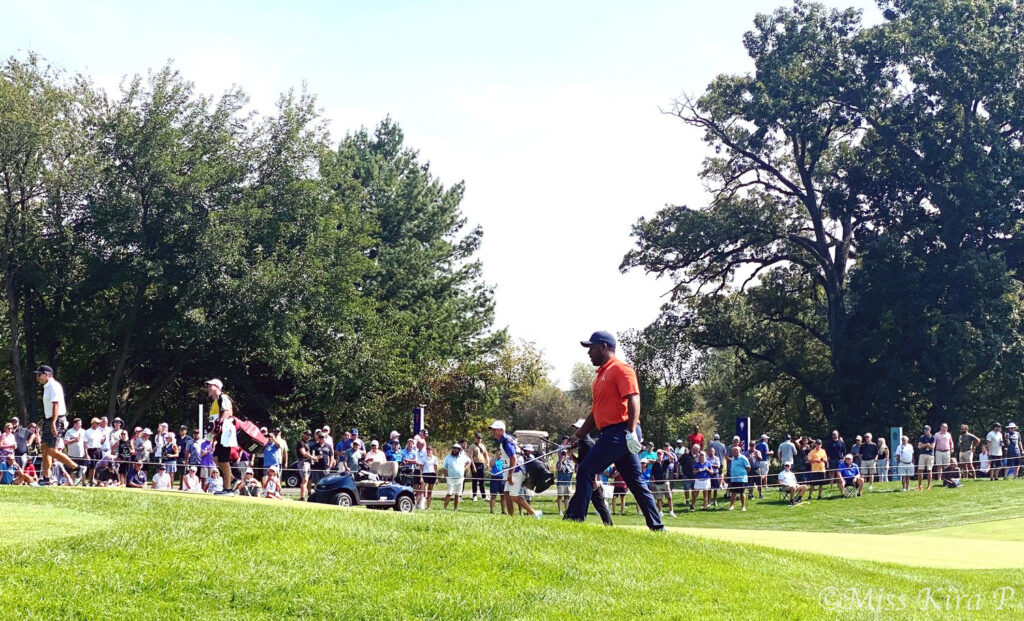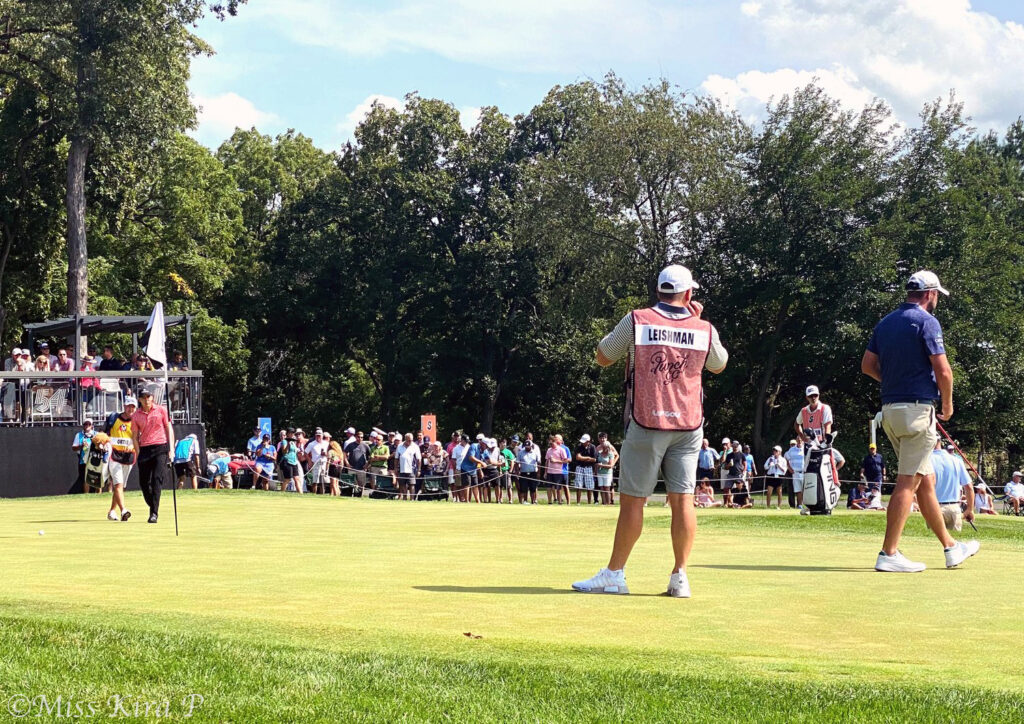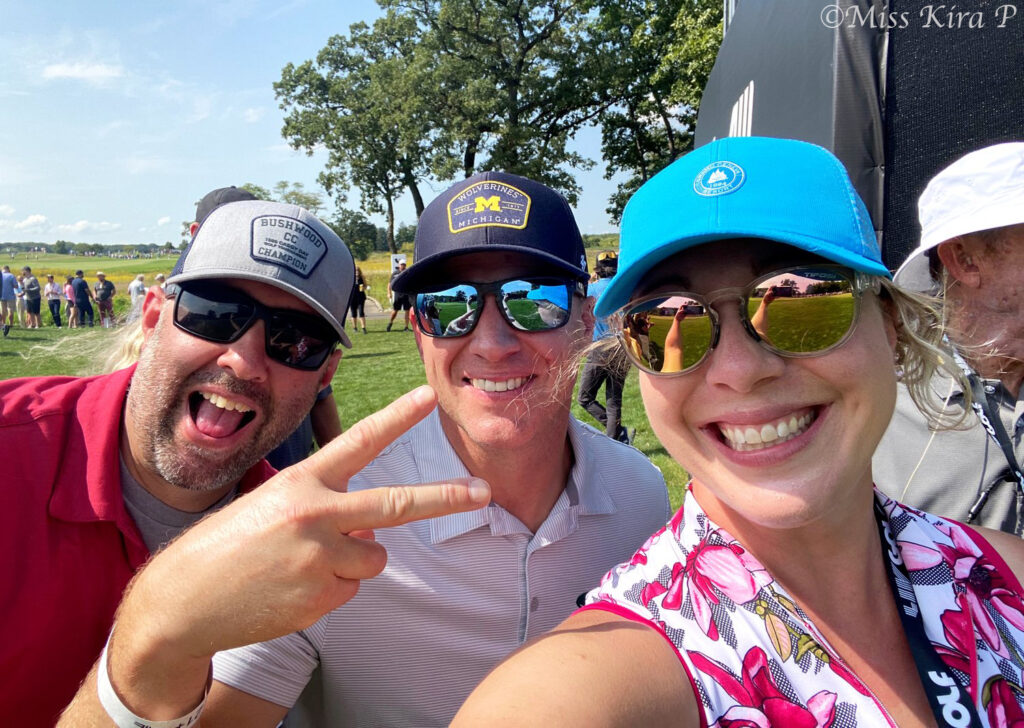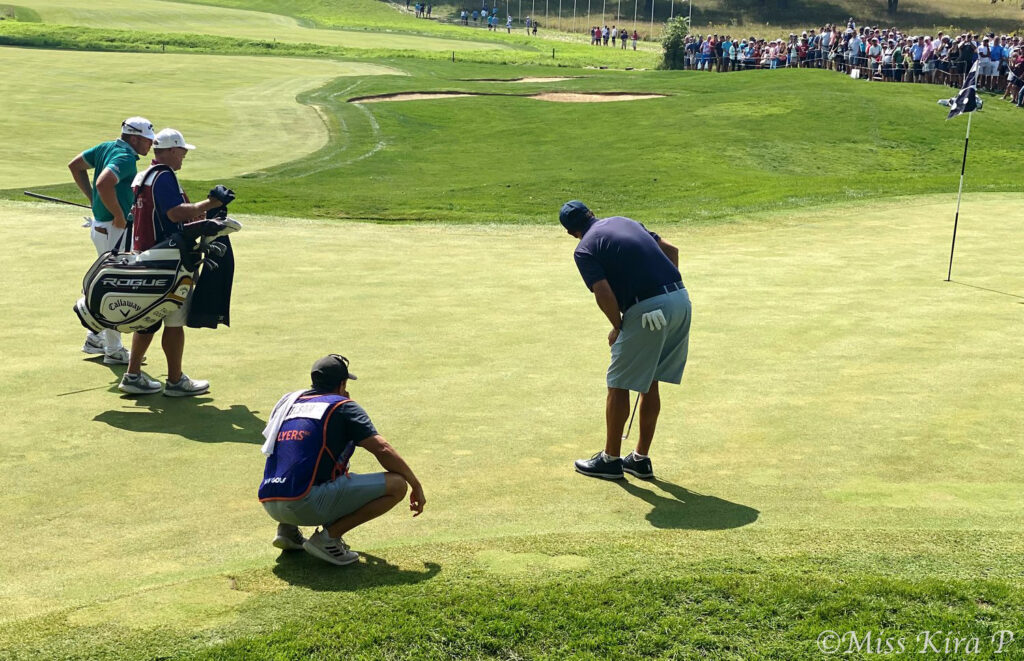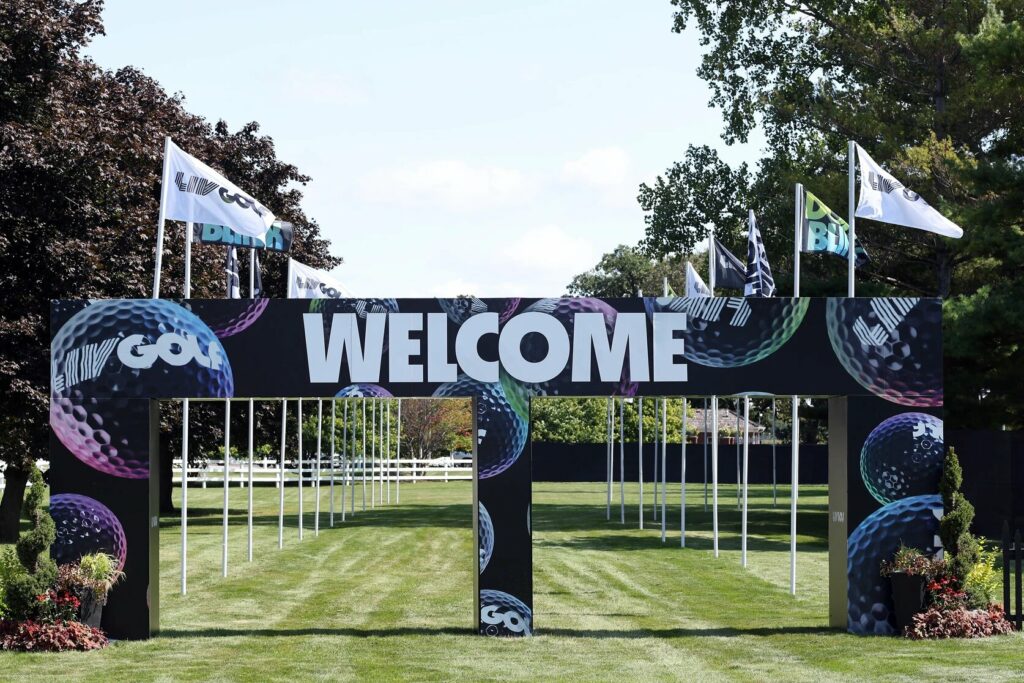 I have no words to compare golf events when it comes to LIV Golf Invitational in Chicago at Harvest Farms from September 15-18, 2022. I have attended many golf events from the PGA Tournament stops Korn Ferry Tour, Champions Tour, and PGA Show through the years.
I wanted to keep an open mind when it came to attending LIV Golf Chicago and wanted to write an unbiased opinion when it comes to covering it for my Miss Kira P Golf Influencing Instagram.
On Thursday, September 15th I drove the hour-and-a-half drive to Sugar Grove from my home base of Lake Geneva, Wisconsin for the Pro-Am closed to the public. I woke up early got ready and was anxious to attend the event along with getting pumped up for the week. As I drove I listened to Chase Rice's "Lions" the lyrics in the song said "If there's a rebel around You know it's gonna be one of us", and I am rebelling loving the whole LIV event.
I walked into the tournament ground to walk into the Media Center I was greeted by the communication team and welcomed right away. The LIV Team was super helpful in telling me where everything was along with if I had any questions please let them know. I walked to the diving range to check it out before heading to the first tee with watching James Piot & Joaquin Niemann partnering with the owner of Rich Harvest Farms. I started walking the course first following their group after a couple of holes I just kept on walking. I didn't realize when I got to the 5th tee that I ended up watching Phil Mickelson and Bernd Wiseberger with my "For Wellness" Mug keeping me hydrated. I started talking with two ladies keeping score for their group and how they got involved with LIV Golf. One girl said she didn't have time to eat breakfast, I had my handy dandy "For Wellness Brownie Coffee Bites" and I decided she had a long day ahead of herself and let her have one. I told her that I am affiliated with "For Wellness" and that it was Phil's Coffee Company and I didn't realize I would be following them. As we walked the course with the group I didn't realize that Phil noticed my coffee mug, we decided to strike up a conversation while along walking the beautiful landscaping at Rich Harvest Farms. I met the CEO of For Wellness along with learning some inside scoop on what is in the works at For Wellness.
As I walked to the 12th tee I realized how massive this golf course was and couldn't even imagine walking the next 6 holes. I waved for a golf cart to see if somebody could drive me to the 17th tee so I could walk back to the media center. I wanted to check out the 18th hole because I knew this would be where the magic happened on Sunday afternoon. There were chairs so I decided that it was time to reflect on how much has changed since I started my journey into learning golf on Women's Golf Day 2022. I didn't think I would be attending LIV Golf in Chicago or seeing how many followers I would have on Instagram as a golf influencer.
When I ended up walking back to the clubhouse/press conference that started with the new LIV Golfer, David Puig. I wasn't expecting how different press conferences with LIV were compared to other golf tournaments. I laughed so hard and realized how much more at ease each golfer was with the media. There were no questions that were repeated over and over again or the stuffy questions nobody cares about. After Puig, we had another press conference with Joaquin Niemann and Anirban Lahiri I found so informative to learn about the big picture with international golf. The last press conference was with Bryson DeChambeau and I was still just so shocked at how much I laughed. One question from the press conference was from the guys in "Country Club Adjacent" and I knew I had to get to know these guys. If you haven't checked them out please do. As the press conference came to a close it was time to venture back to the media center and drive back home to relax before the first official day of LIV Golf with their first round.
The first official day of LIV Golf Chicago opened to the public was so full of energy and see how the public would react to this event. As I walked onto the grounds with my Tail Activewear and my Levelwear Grand Geneva Resort & Spa pullover before the gates I could sense a sense of excitement and electricity in the air. It's amazing to know that LIV Golf loves taking care of the media people attending the event with breakfast, lunch, and dinner along with many different types of snacks for grab & go. I went to look at the dining area to see what I could grab for breakfast before heading to check out the driving range to see if any players were out there yet. I decided to make friends with the security people because they keep the event running smoothly along with seeing if they would need anything to eat since I had time to kill before it started getting super busy.
One by one players started coming to the driving range before working on their game and the fans could sense something was shifting in the air. Something that we were all going to experience for the first time and would make all these fans understand what LIV Golf is all about. Most of the players started their practice at the putting green, chipping, and ended their practice at the driving range. I started taking photos on my iPhone out on the driving range then I stopped to watch Ian Poulter practice, little did I know Chicago Bulls legend Scottie Pippin and Michael Jordan would be at the LIV Golf event, Pippin is a members at Rich Harvest Farms. There was an announcement on the speakers saying there was a special birthday for a player and that we should all sing happy birthday to Bryson DeChambeau as the guys from "Country Club Adjacent" brought him the cake. As it came closer to noon I decided to stop at the media center one last time and met Jeff told me that we had media goodie bags waiting for us which included a LIV Golf Hat, LIV cup, LIV Socks, and a LIV Cooler. I wasn't expecting it at all but it was a nice touch that LIV did for us in the media. I was at a loss for words because it was so kind of them.
I followed the crowd to the 1st tee/18th hole to watch the Frog-X Navy Seal Parachute Team land and it was just a great thing to see what the Navy Seals can do.
The first grouping on the 18th Tee was Talor Gooch, Phil Mickelson, and Paul Casey you could tell fans wanted to follow certain players but unfortunately, they might have not known how expansive the golf course is. I decided to park my body on the 18th hole with the best views of the 1st tee also from where you were at. I watched the first grouping from the crowd and then decided to watch the rest of the groupings "inside the ropes" and became friends with the volunteers holding the signs along with cracking jokes. We learned that the 18th hole had many trees that had produced acorns, we started cleaning up the acorns on the greens in between each grouping.
As the day went by the music was going on the whole time, the crowds were loving it and watched all of the players competing at a high level. One of the last groupings was with Cameron Smith, Lee Westwood, and Bryson DeChambeau the birthday boy a bunch of us were talking and didn't realize that DeChambeau hit his golf ball and it almost hit us. We couldn't believe that we missed his golf ball by a couple of feet by chance. As the day drew to an end our last grouping came up to the 18th Hole with Dustin Johnson, Joaquin Niemann, and Anirban Lahiri.
We all knew Dustin Johnson was going to break out of the pack and he sure did. It was cool to see how much each player was feeding off the fans and the different energy I felt. I started making my walk back to the press conference area as I figured out quickly how they would end up being. Once again I laughed a lot with many of the media that attended them as we knew what to expect with Dustin Johnson and grouping with Matthew Wolff, Cameron Smith, and Phil Mickelson. Once again the guys in "Country Club Adjacent" came up with some of the best questions and you could tell each player was enjoying their press conference. For the fans, there was a concert following the last grouping over in the fan village instead of attending it I knew my allergies were acting up. I wanted to get home to take care of my allergies, being in the shade and not feeling super good, so I knew sleep was the best medicine for me.
On the second day, I thought I could "sleep in" but my body had other plans on getting my butt into gear and getting motivated to head back to Rich Harvest Farms. I was going to stay hydrated and eat breakfast before a super busy day. I remembered how much staying hydrated with water and a good meal would make things so much better. I decided to take it easy and talk to Sheryl who was keeping guard making sure we had the correct badges to go into certain places. She couldn't believe my story along with laughed so hard that when I was growing up I was the "quiet" one and my brother was the "loud" one.
Made sure I could mentally prepare myself for my third day and the public second day by taking my allergy medication and drinking lots of water throughout the day. As I knew the driving range was starting to get a crowd I ventured out there and was glad to see an area for media entrance. I went to say hi to the security people on the driving range and just started taking photos on my iPhone for my Instagram. I started talking to one of the guys working and he told me he has no idea who is golfers-wise. I told him no worries I can tell you whose who which still shocks me since I used to be in his shoes the only players I knew were Tiger and Phil. Walking around I noticed that Bubba Watson was there out on the driving range commentating for Liv as I walked back to the opposite side I noticed that Greg Norman was out on the driving range. He was talking with the players, and their spouses and showing his love to the fans for attending this event.
When it was time to venture back to my favorite spot for the 18th hole for Frog-X Navy Seal Parachute Team and shotgun started following it. I was talking with Lee, one of the volunteers, and he told me I grabbed extra snacks and water for both of us. It was so sweet knowing that he was looking out for me like I was with him. Again DeChambeau's golf ball almost hit us as we were talking with a small group of people including Brock who works at Rich Harvest, some fans, volunteers, and myself. I kept on telling myself I am not a target DeChambeau but if this happens on Sunday I am going to assume he thinks I am.
It was never a dull moment on the 18th hole with acorn duty, the sun beating down on us, lots of water, and realizing how much I was enjoying every moment of my very first LIV Golf Tournament. Where the 18th hole was and where I was standing most of the day I am assuming I might have been on their live videos when they showed the groupings. Not sure I looked like I had a resting bitch face but I just felt like I couldn't show the emotion of players whom I love watching. I am letting you know if you did see me at all in those videos I promise you I was having a great time watching some of the best players in the world play this event.
End of the second day I walked over for the press conference and watched the end of Peter Uihlein and Brooks Koepka's interview which looked so comfortable with the media people. We wanted to show people in the golf world that it is a fun event and this is the new shift in where golf is going. The next press conference was with Cameron Smith and Open Championship, the mullet man himself. I highly enjoy his swagger and his style when it came to answering the media's questions. My question is how much is the Presidents Cup International Team missing Cameron Smith not being on their team? As the press conferences ended I decided to check out what was for dinner at the dining hall and grab an adult beverage before ending the night by seeing Jason DeRulo's concert.
Sunday was the last day and I was a mixed bag of emotions I wanted there to be a playoff in the morning but I was sad to say goodbye to all my new friends I met at LIV. I rallied and decided to head to the putting green with a fellow media person to watch all the players work on their short game. I showed him the shortcuts to get to the putting green and picked out players he was asking me about. As the putting green started getting packed with every player working on their short game we decided to take that short walk back to the driving range. Wasn't sure who would be out there on the range but I decided to watch the 4 Aces practice which included Pat Perez, Talor Gooch, Patrick Reed, and Captain of 4 Aces Dustin Johnson. As I walked back to the media center Gooch decided to walk my way and told him it was great seeing him again and that my money is on his team. Many years ago at my old media job, we interviewed Gooch when he received his PGA Tour card and since then I was always cheering for him.
Instead of walking to the 18th green to watch the Navy Seals show I wanted to get some photos and videos of the shotgun starting with every player going out on the course. My favorite picture I took from that was probably Lee Westwood's Wife's picture looking like she's having the time of her life. As the groupings started at 12:15 P.M. I walked back to the 18th hole to watch the groupings until there was a mini break time between groups I wanted to check out "The Fan Village" and what he has to offer. It was something I never saw at a golf event there was something for everybody, kids, women, and men, it had everything food trucks, merchandise, a kids zone, the performance zone, a mullet area to fundraise for non-profits, pro pass challenge, fastest pitch challenge, and impossible putt just to name a few.
I had to check out the merchandise area to see what kind of items they had for fans to purchase with their team names and anything you could imagine. As I walked back to the 18th hole I noticed that it was about time the break was over and another grouping was walking on the fairway. I found Melissa who works in the audio at the LIV event again and we were talking about whom we want to win the event. In the middle of the tournament, there was an announcement for a moment of silence for Queen Elizabeth as it was the day of her funeral in UK Time. It was a special moment to show support for the changes going on without the Queen since we all weren't expecting it and I thought at first it was a storm warning. As the groupings started to come to an end we knew the last grouping with Peter Uihlein, Cameron Smith and Dustin Johnson was coming along with the fans. I didn't know whom I wanted to win the whole event because I liked them all equally but I knew it would be a great way to end the tournament.
As Uihlein, Smith, and Johnson walked to the 18th hole we could feel the energy and saw Greg Norman in the VIP Booth wanting to see the action firsthand. Cameron Smith came out on top in first place, Peter Uihlein placed in second place and Dustin Johnson placed in third place after the handshakes Smith came up to Norman to celebrate a great handshake.
Now that the golf tournament was over it was time to celebrate in the Fan Village for the trophy ceremony with a huge crowd and every media person was in the media area. It all started with an introduction to some very important people in LIV Golf. The crowd of fans cheered and were ready for a huge celebration announcing who won third, second, and first place for individuals. As we got ready for which team won Dustin Johnson stayed out on the podium since his team the 4 aces won the team format which included; Dustin Johnson, Patrick Reed, Pat Perez, and Taylor Gooch. There was confetti, popping bottles of champagne, and a speech by Johnson as Captain making sure people knew they have one multiple events already in the team format.
After the trophy ceremony media walked back one last time for our press conferences with LIV Golf Chicago Winner Cameron Smith and Team 4 Aces team members. As I was walking back to the media center I met a fellow media person we ended up talking to each other until we were getting kicked out of the media center everybody had left. I said goodbye to everybody I met and thanked everybody for such an amazing event.
When I got in my car and made the drive back to Lake Geneva I decided to reflect on how much my life has changed since becoming a golf influencer on my Instagram and how much my life has changed since my last job. It has been a crazy journey but I wouldn't want it any other way so many amazing things have happened and to always keep an open mind.
With sore feet, a sunburnt nose, 3,000+ pictures to edit/delete, lots of memories, new friends, and the love I have for LIV Golf is something you have to see for yourself at a LIV Golf Event. Time to rest up before attending the LIV Golf Tournament in Miami at the end of October and I can't wait for more new memories.
"Hit 'em Straight!"
Miss Kira P