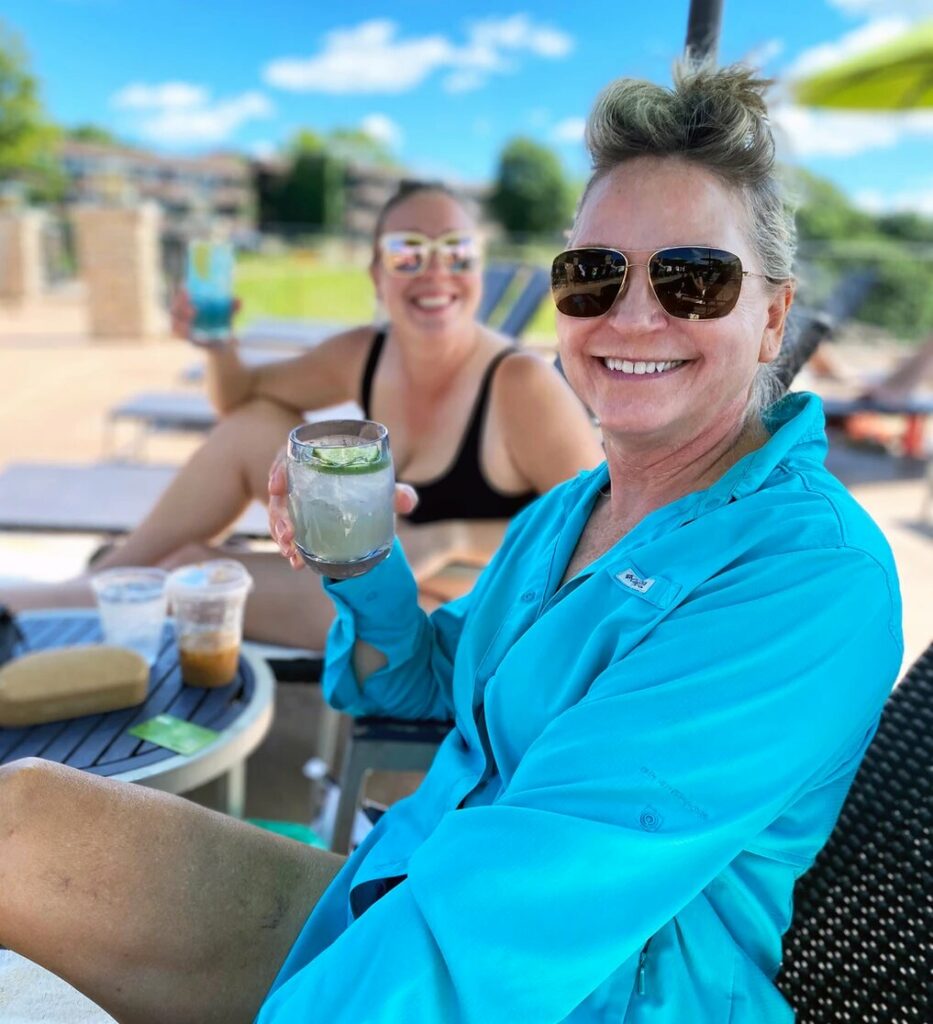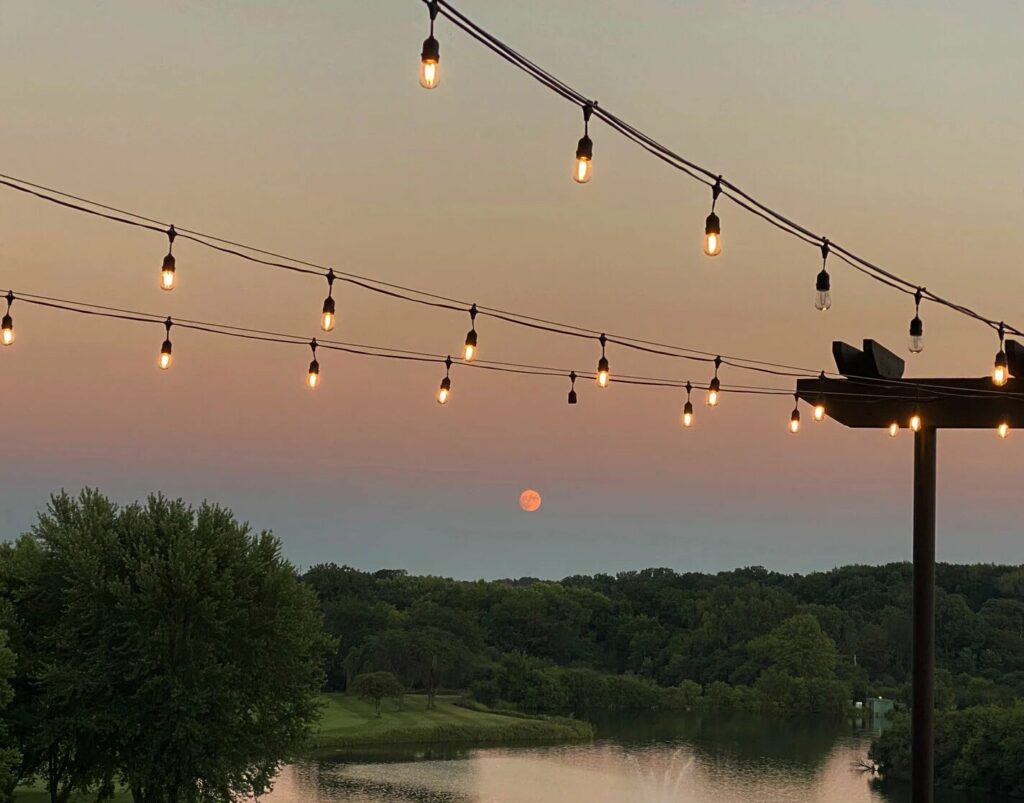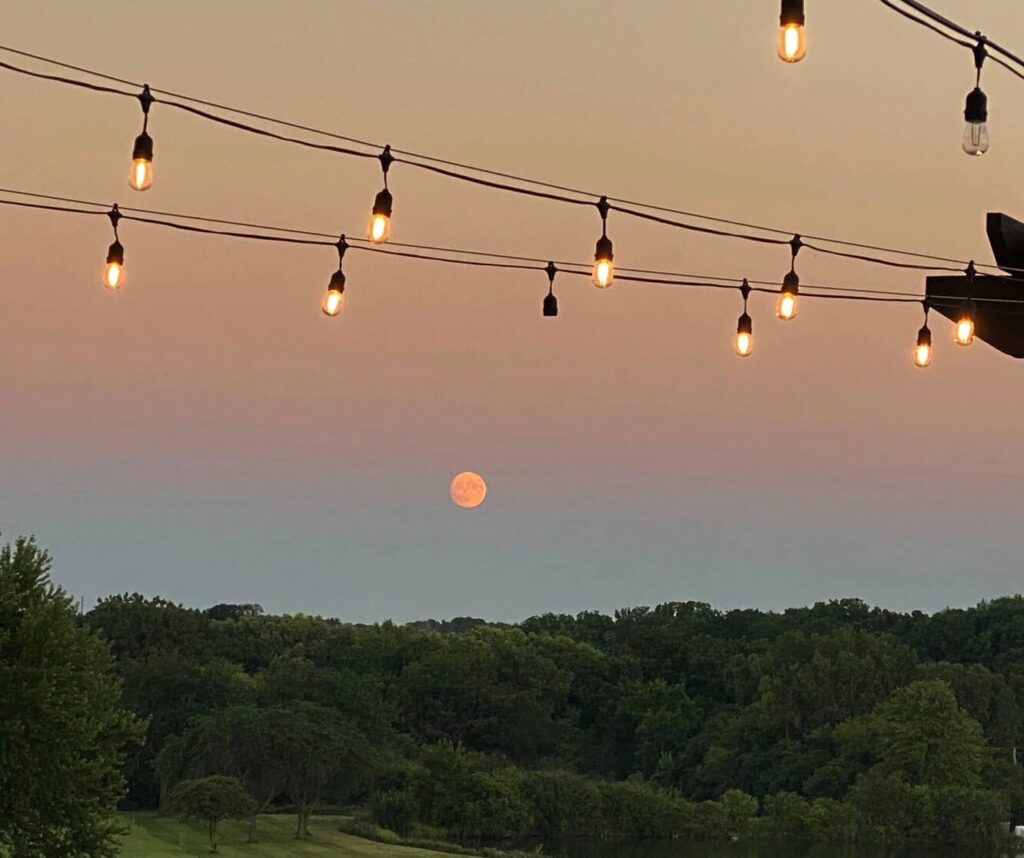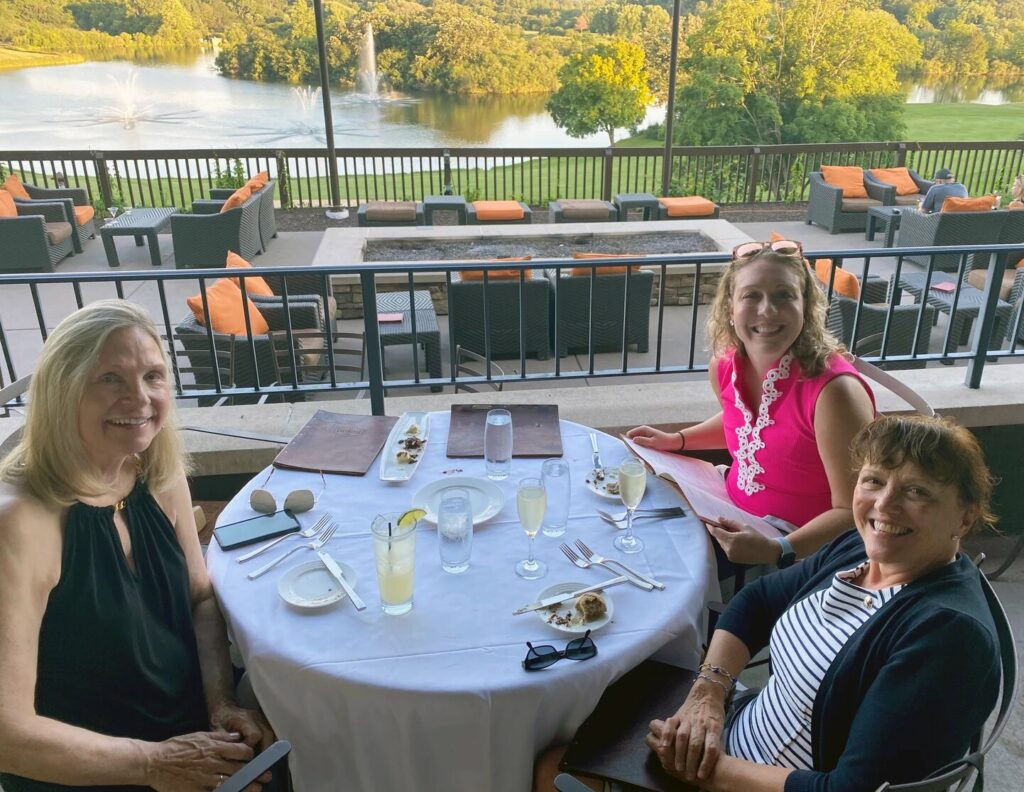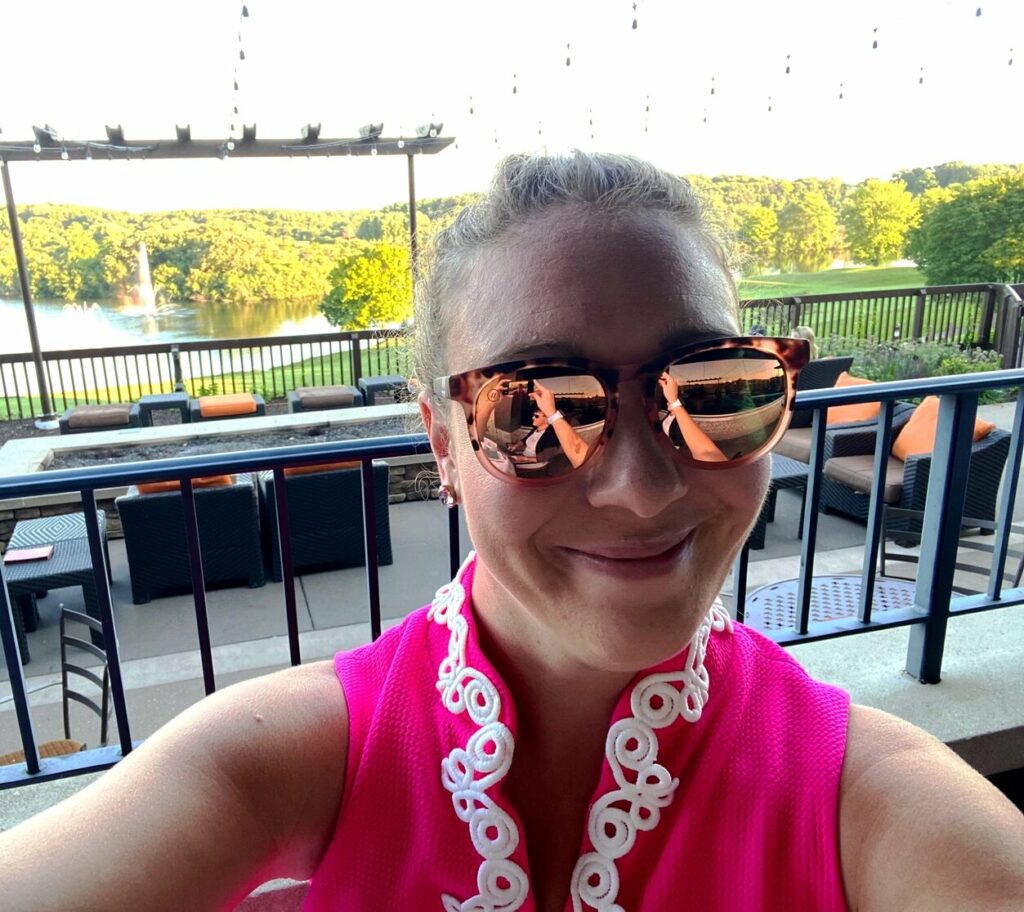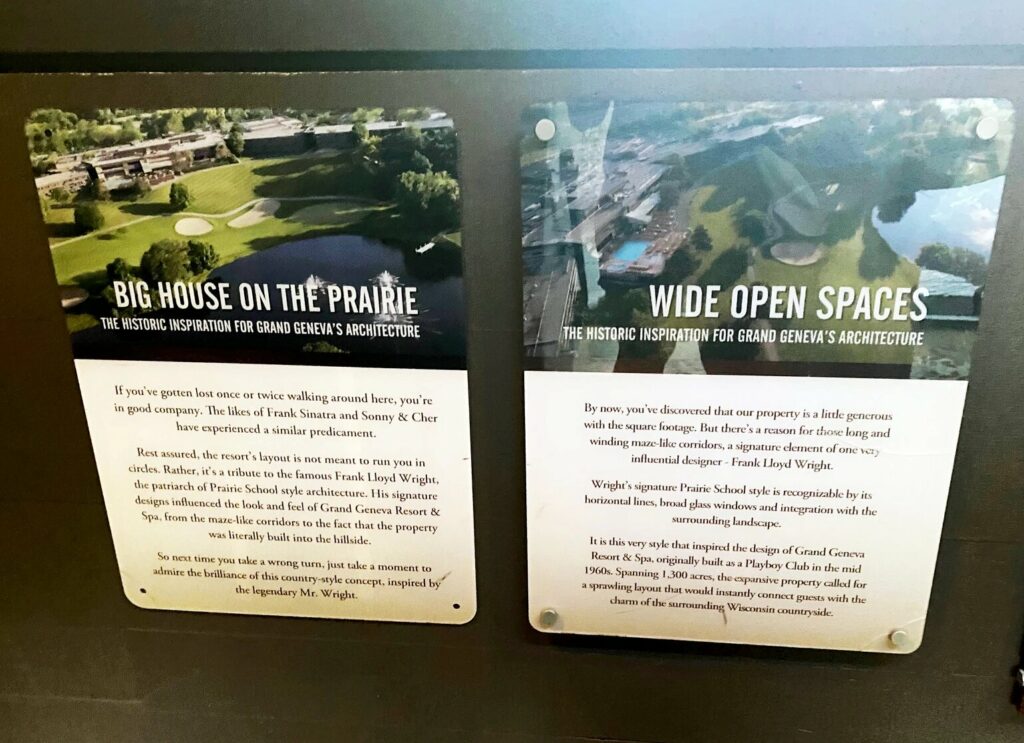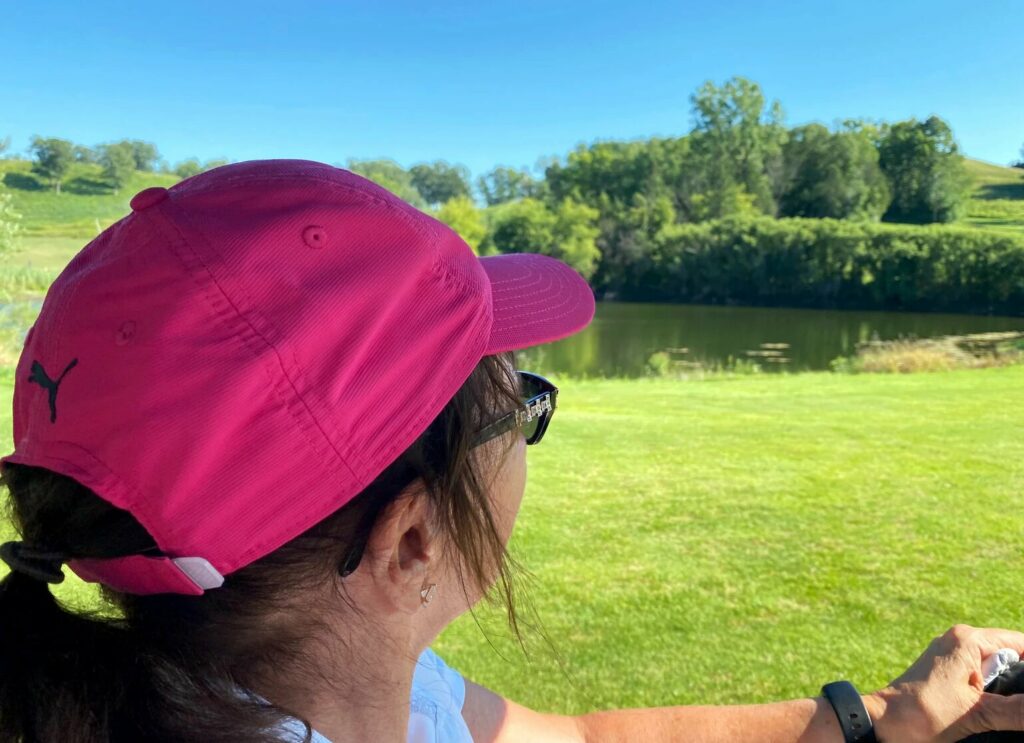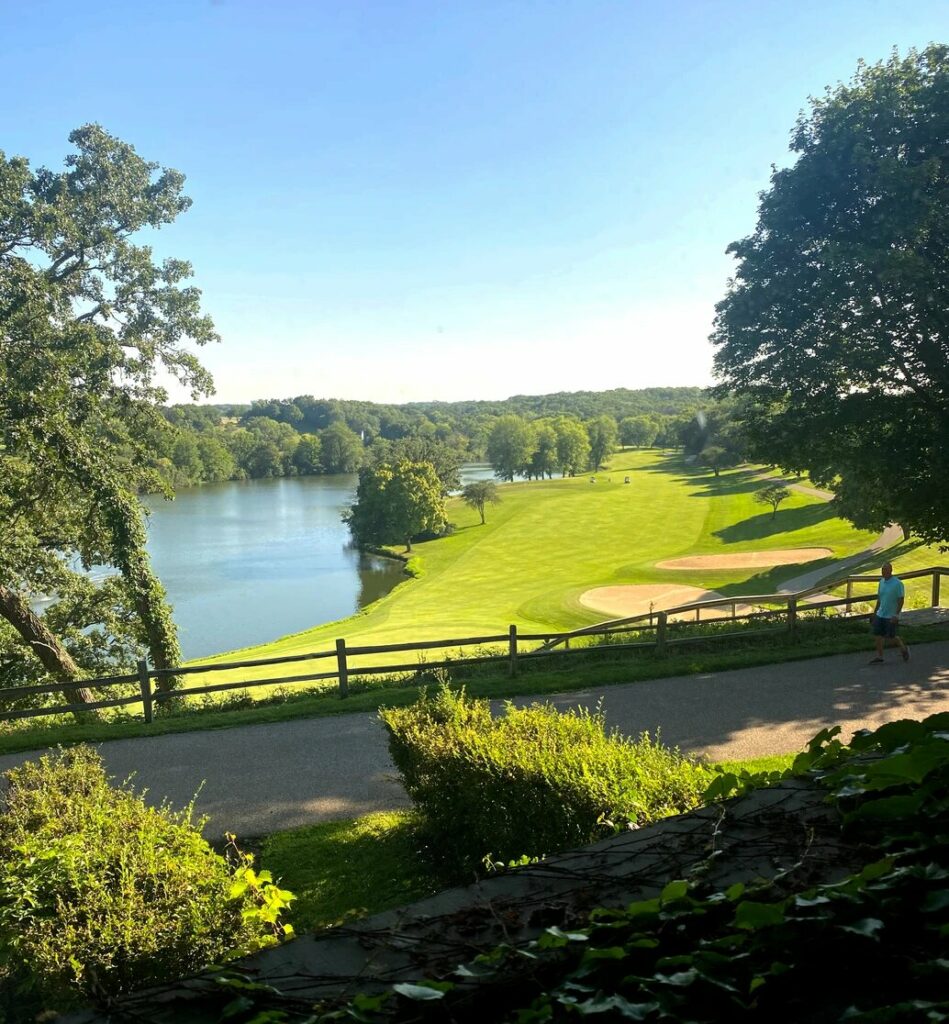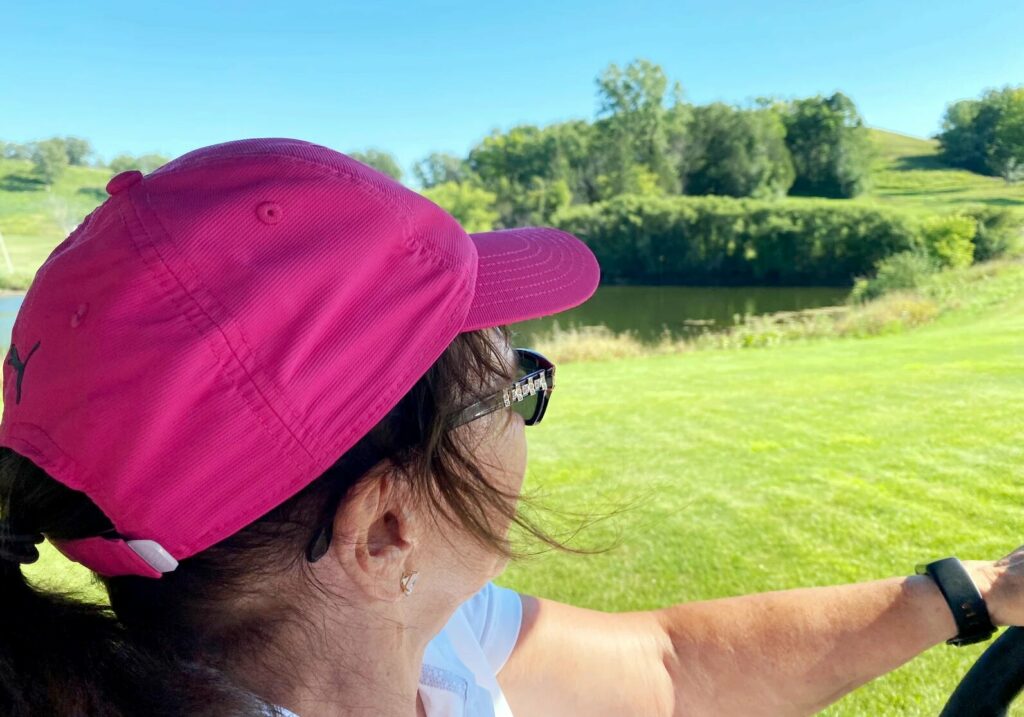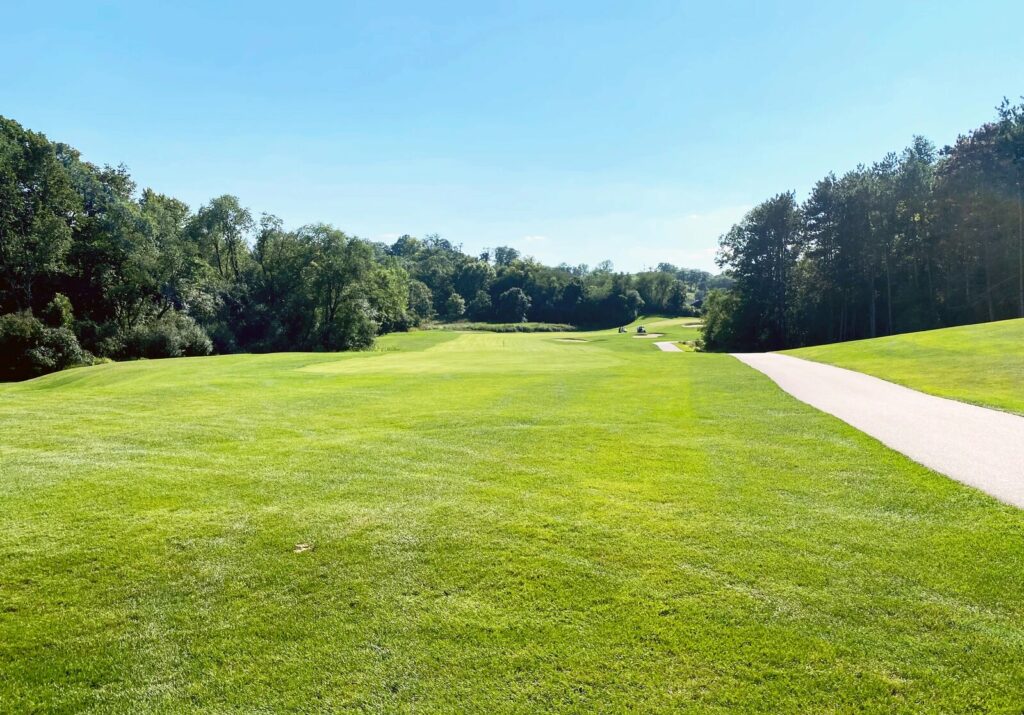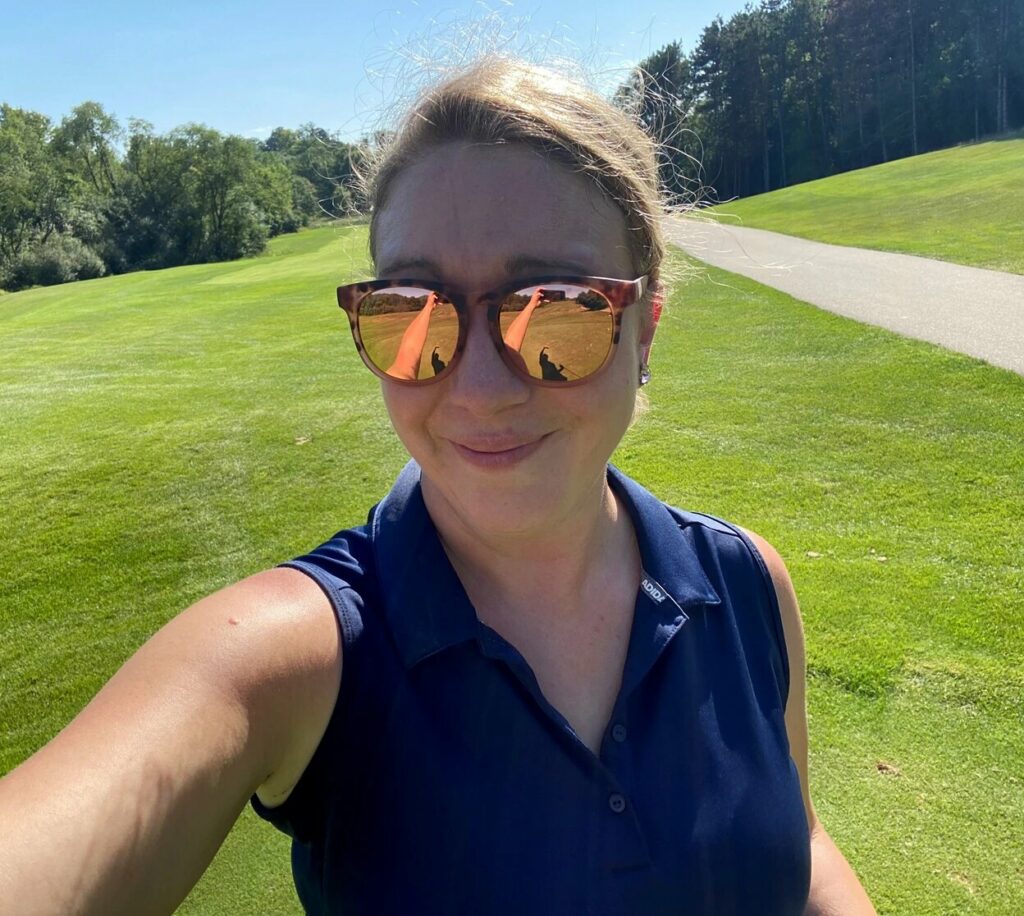 Hi Everybody,
Last week I ENJOYED a Women's Overnight Golf trip at Grand Geneva Resort & Spa with my mom and my aunt. Grand Geneva Resort & Spa is the place where I learned to golf and practice hitting golf balls since it's so close to my house, literally, in my backyard. Since going there on my first day, everybody on the staff is friendly and has become good friends too.
There is a lot of history of Grand Geneva Resort & Spa. Most people know that it was the Lake Geneva Playboy Club Hotel that opened in 1968. The hotel was inspired by architect Frank Lloyd Wright with his influence and designs throughout the hotel. Marcus Hotels purchased the Grand Geneva property in 1993 and the resort sits on approximately 1,300 acres. There are ample things to do on the property if you are there for business, leisure, wedding, or just need a great girls' weekend with the spa and fitness center on the property too.
We arrived at the resort for lunch on the patio at the clubhouse before our women's golf clinic with Alex. It was great walking up to the clubhouse staff is always warm and even suggested their favorite menu items. We met with Samantha and Jenna from the marketing department, who helped set up our overnight stay. We all sat down to talk and try their Bavarian pretzel with three different dips that complement the appetizer. I recommend that you should try it at least once if you come to Grand Geneva.
As we left the clubhouse for our golf lesson with Alex I thought to myself this is going to be fun. I just started learning golf on "Women's Golf Day 2022" on June 7 so I am still new to the sport I have improved a lot due to attending the Women's Golf Clinic at Grand Geneva Tuesday mornings and Thursday afternoons. My mom and aunt never had a golf lesson until this trip and at the end of the lesson, they were hitting golf balls. It was fun and we had a lot of laughs during the lesson and I "tried" to practice my short game. I know that's what I should focus on and practice more but it's always fun to take my driver and just hit them as hard as possible.
After our lesson with Alex, we got the chance to head to The Highlands Golf Course. At Grand Geneva, there are two golf courses on the property "The Brute" and "The Highlands". We were told to get to the first tee early before our tee time, and if we can't see the people in front of us pick up the pace. We all have never hit golf balls on a course, so I decided I would hit my golf ball first in our threesome. Andrea and Donna looked both at each other along with the people watching us from the first tee and decided they wanted to watch me play. Donna and Andrea decided they would want to drive the golf carts with a little bit of practice they became professionals. I had a great time figuring out which golf clubs to use on each hole along with trying to find my golf balls. I had no idea how much energy I would use after playing 9 holes and I forgot to put sunscreen on at this time.
When we got back to the clubhouse after our 9 holes it was time to check in to our hotel room at the main building. Grand Geneva Resort is the only four-diamond resort in Lake Geneva and we noticed right away the remodeling they have done since we were here last. It looks modern and the upgrades made a huge difference. As we checked in for our reservation and found our hotel rooms in building 7, we decided to unpack and get organized before our dinner reservation at Geneva ChopHouse. We laughed so hard trying to find our hotel room since it is a maze but we did find it by asking an associate if we were going the right way.
After a short dip before we decided to dress up for our reservation at Geneva ChopHouse. There are three restaurants at Grand Geneva, Ristorante Brissago, Geneva ChopHouse, and the Grand Cafe. As we walked through Grand Geneva to our reservation we were making memories and cracking jokes. That's what we did the most on this trip and was what we will always remember. When we checked in for our reservation we decided to eat outside on the patio overlooking the fire pits and the man in the moon as it shifted throughout our dinner. As our dinner got started we couldn't have had a better experience from our waiter's recommendations from drinks to appetizers, entrees to sides. We asked an associate at the ChopHouse if he could take a photo of us with the beautiful ambiance and great company to share this view. We couldn't decide on what we wanted and everything sounded amazing, with steak, fish, and the sides you could choose. We finally decided on what we wanted for dinner which was scallops, a filet, and fish with small potatoes (who can say no to potatoes?). We were interested in trying the side lobster Mac & Cheese since is a big hit with clients at the ChopHouse. When our dinner came we were pleasantly surprised that they brought the lobster Mac and cheese for us to try. The consensus is that you should try this dish, cheesy and delicious. I don't know if I could have eaten more but we decided on dessert. It was banana cream pie and I resisted as much as possible, but my mom and aunt loved it. We enjoyed the view and made memories before we left and thanked everybody at the ChopHouse for a great dinner.
I noticed right away through our stay that so many different upgrades and changes were made to the property. Including the hotel rooms' ballrooms, conference rooms, and guest bathrooms. You may be interested in knowing that Grand Geneva has a private, FFA-approved airport and when the snow is falling they have The Mountain Top which has 20 downhill ski slopes with many different skill levels.
Our day was so full, though we originally thought we'd be up for some nightclub dancing at Evolve, we headed to our room and got ready for bed. Don't worry we did stay up and talked making more memories altogether.
On Thursday morning, we had the chance to sleep in and enjoyed the patio views from our hotel room. As other guests passed our patio we greeted each one with a "Good morning and have a fabulous day". We packed the items we brought with us and took them to the car before heading to the pool. I needed more coffee so I stopped at The Lobby Lounge for an iced coffee and enjoyed the pool it was slightly cooler but it was 10 am when we got there. I decided to head into the lobby to check out and told them what a wonderful time I had on their property. The upgrades and changes made a difference and were noticed right away. We headed for our day at the pool with some adult beverages and lunch.
Samantha came to check on us while at the pool and we thanked her for our stay at Grand Geneva and enjoyed the trip.
If you need a little getaway with family, and friends or couples retreat I would head to Grand Geneva Resort & Spa in Lake Geneva, Wisconsin. It is nestled between Milwaukee and Chicago. I couldn't have asked for a better golf overnight trip with great ladies making memories I will always remember.
"Hit 'em Straight."
Miss Kira P